Recently found by viaLibri....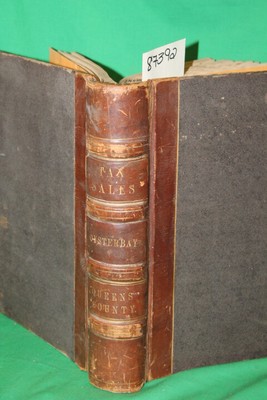 Notice of Sale of Lands in the Town of Oyster Bay Elbert Hegeman, Elizah Herbage, F.W. Geissenhaimen,G. Edward Carel,
, 1887 Binding: LEATHER BOUND BROWN Size: 12 1/2 X 10 Overall Condition is: FAIR Tax sales notices cut from the newspaper and pasted on the ledger pages. Handwritten entries to the right of every tax sales. 3/4 leather bound. 4 raised ribs. Gold gilt on spine. No bookplate. Tight binding. Browned pages. Foxing on few pages. Chipped cover and spine. Signed by John Ramsen. Notice of Sale of Lands in the Town of Oyster Bay County of Queens, and State of New York for Unpaid Taxes of the Years 1873, 1874 and 1875 until1887. 1. Anna M. Christ 2. Ardon Hubbs 3. Augustus Henze 4. Charles Hendrickson 5. Charles Luyster 6. Edgar Davis 7. Edward Payme 8. Elbert Hegeman 9. Elizah Herbage 10. F.W. Geissenhaimen 11. G. Edward Carel 12. G. Edward Carel 13. Geo S. Douning 14. George N Watteran 15. George N. Netteran 16. George S. Douning 17. Henry C. Baker 18. Henry Dubois 19. Henry Jones 20. Herman Ritter 21. J.C. Barnhart 22. Jacob Charles Appleby 23. James Bradbury 24. James C. Townsend 25. James Elliot 26. John Duffy 27. John J. Powell 28. John M. Crane 29. John T. Pirie 30. John Wallace 31. Joseph H. Doud 32. Joseph W. Kay 33. Michael Mc. Dermott 34. Morris Fosdick 35. Moses H. Comeluis 36. Nathaniel Ketcham 37. Rudolph Cashman 38. Samuel Underhill 39. William W. Mershon 40. Williams C. Spears.
Bookseller:
Princeton Antiques Bookshop (princetn)
[Atlantic City, New Jersey, United States]
Search for more books on viaLibri