Recently found by viaLibri....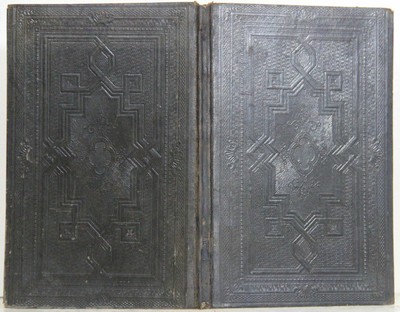 Rare mission bible: New Testament (Luke) in Hakka dialect (Taiwan) 1866
[Basel, printed for the British and foreign Bible Society], 1866. Artikeldetails The Gospel of Luke. (In the Hakka dialect). Translated by Lechler. Chinese - Hakka (Taiwan): [Basel, printed for the British and foreign Bible Society], (1866). 21,5 x 14 cm. 115 pp. Original blind pressed cloth, gilt edges. Sprache: Chinesisch Bestell-Nr: 136671 Bemerkungen: *Darlow & Moule 2870: "no title page. Roman character". - NO AMERICAN COPY LOCATED. - Revised edition of No. 2868, translated by Lechler and in continuation to Matthew's Gospel). Has no separate title page, starts with the half title (= p. 1-2). "St. Matthew's Gospel, translated by Lechler, was published by the Basel Mission at Berlin in 1860, and again in 1866 - [now] with the addition of St. Luke, based on an earlier edition printed at Hongkong in 1865 - in larger types for the British and Foreign Bible Society. It was printed in the Lepsius system of Romanised [Chinese]. Other books followed in 1874 up to 1883, by which time the whole New Testament was completed" (Lamarre, pp. 73 in "Early Hakka Corpora" 2002). - Very good condition.EUR 1.265,00 (inkl. 7,00% MwSt.) Versandkostenfrei innerhalb Deutschlands Weitere Abbildungen Aufgenommen mit whBOOK Artikel eingestellt mit dem w+h GmbH eBay-Service Daten und Bilder powered by Buchfreund (2020-03-25).
Bookseller:
Antiquariat Braun (bbraun_de)
[Gengenbach, DE]
Search for more books on viaLibri