Recently found by viaLibri....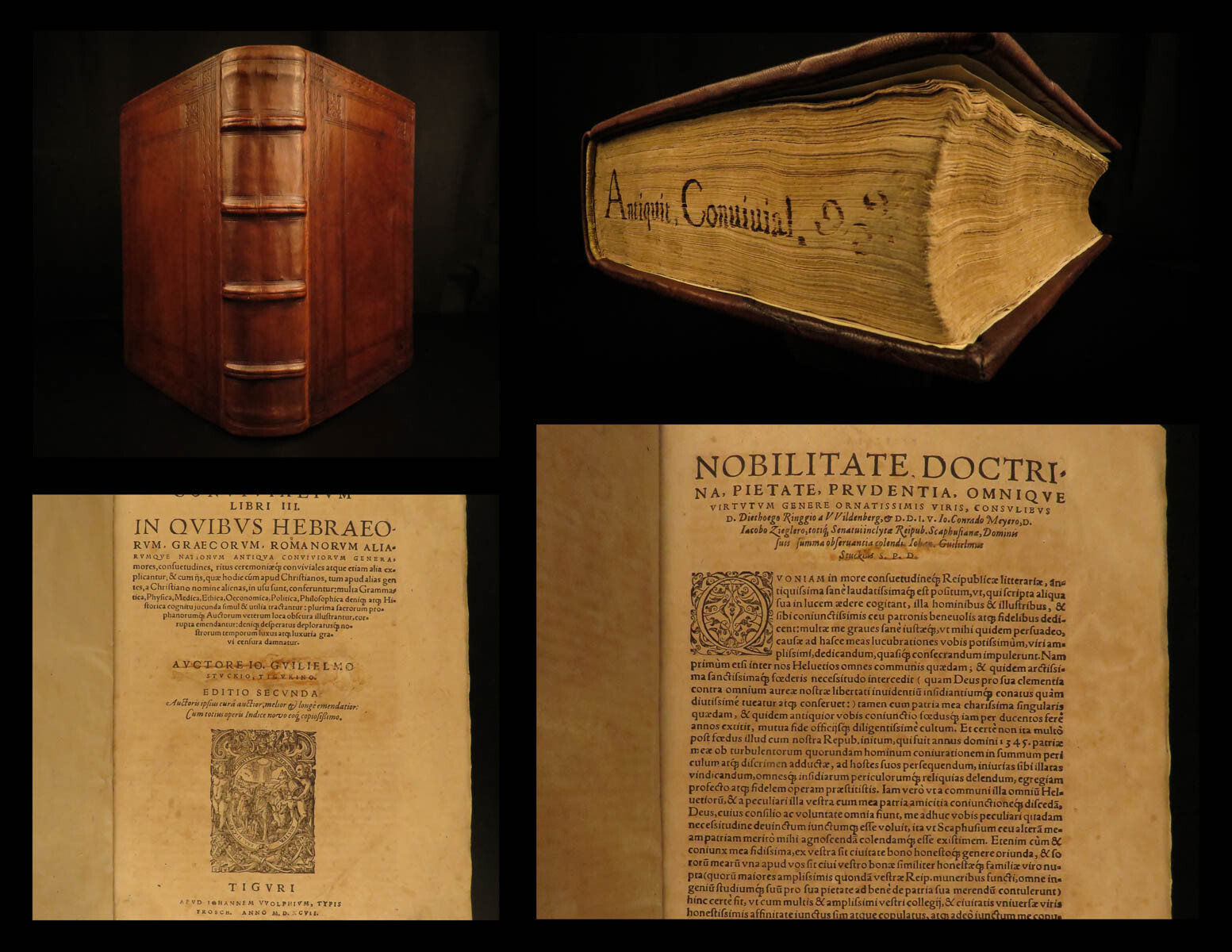 Antiquitatum convivialium libri III.: In quibus Hebraeorum, Graecorum, Romanorum aliarumque nationum antiqua conviviorum genera, mores, consuetudines, ritus ceremoniaeq́[ue] conviviales atque etiam alia explicantur; & cum ijs, quae hodie cúm apud Christianos, tum apud alias gentes, a Christiano nomine alienas, in usu sunt, conferuntur: multa grammatica, physica, medica, ethica, oeconomica, politica, philosophica deniq[ue] atq[ue] historica cognitu jucunda simul & utilia tractantur: plurima sacrorum prophanorumq́[ue] auctorum veterum loca obscura illustrantur, corrupta emendantur: deniq[ue] desperatus deploratusq́[ue] nostrorum temporum luxus atq[ue] luxuria gravi censura damnatur
Tiguri [Zurich]: Iohannem VVolphium Frosch, 1597. I am limited to 12 photos on eBay, but I have many more photos on my website...just ask. Johann Wilhelm Stucki was a 16th-century Swiss historian and theologian who published an important treatise on the development and history of ancient ceremonies and banquets. 'Antiquitatum Convivialium' was a study on the art of banqueting and ultimately stated that ceremonies of all types were a necessary and significant part of all cultures. This work was so ground-breaking, that it was solely responsible for all other accounts written on the subject. Nicolas Popper states that "Stucki devoted nearly four hundred folio leaves to the feasts of the ancient Hebrews, Greeks, and Latins.".
Bookseller:
Schilb Antiquarian Rare Books (schilb_antiquarian_books)
[Columbia, Missouri, US]
Search for more books on viaLibri