Recently found by viaLibri....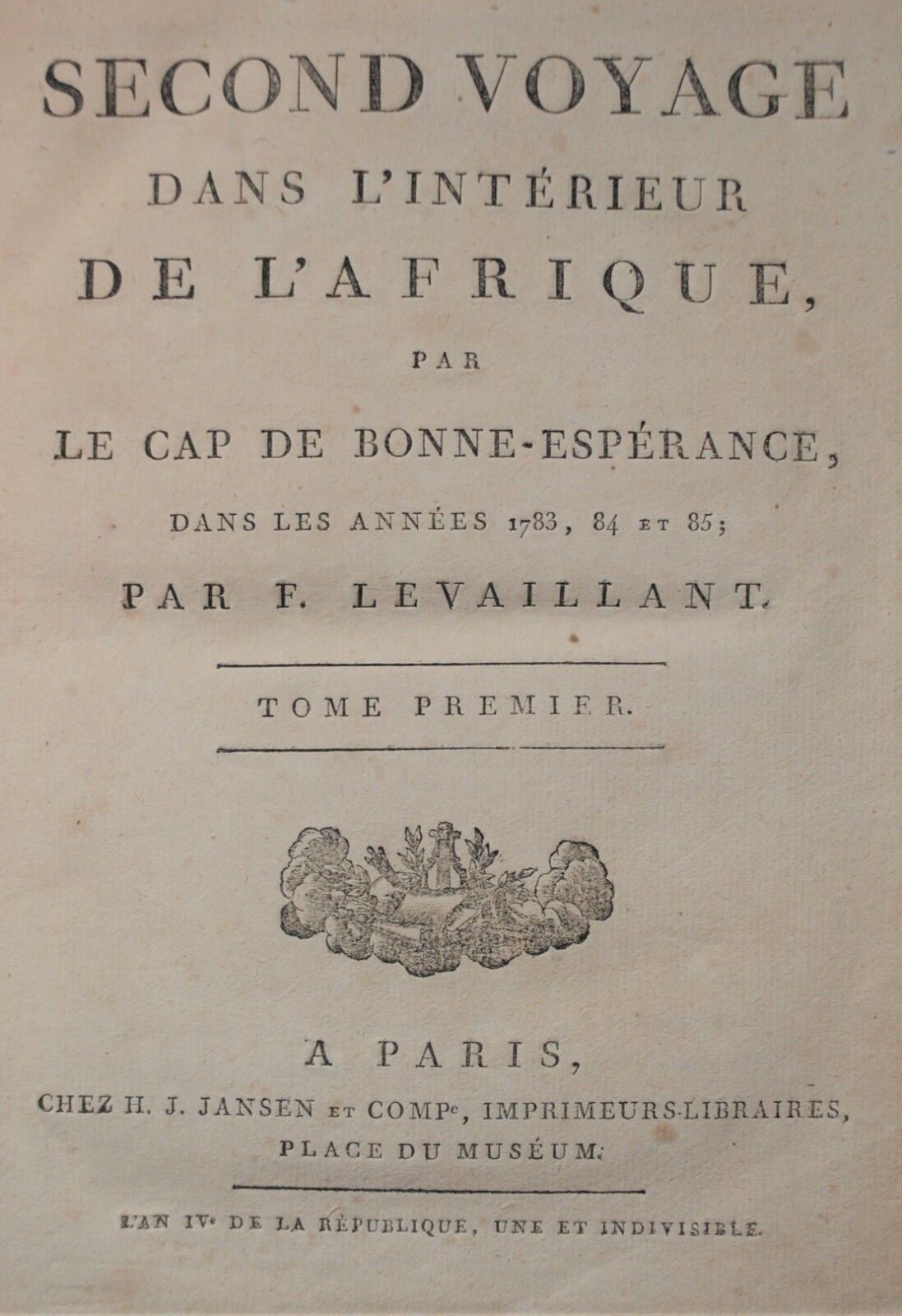 LE VAILLANT: VOYAGE DE MONSIEUR LE VAILLANT DANS L'INTÉRIEUR DE L'AFRIQUE (...)
LE VAILLANT FRANÇOIS. VOYAGE DE MONSIEUR LE VAILLANT DANS L'INTÉRIEUR DE L'AFRIQUE PAR LE CAP DE BONNE-ESPÉRANCE DANS LES ANNÉES 1780, 81,82,83,84 & 85 ET SECOND VOYAGE. Bruxelles, Benoit Le Francq, 1791, 2 volumes in-8 (21.5x13.5cm), XX-274 et 287pp. Récit du premier voyage en Afrique de Le Vaillant (1753-1824) effectué de 1780 à mars 1783. Illustrations : Tome 1 : frontispice, 3 bandeaux et 1 cul de lampe + 5 planches hors texte dont 2 dépliantes ; tome 2 : 1 bandeau + 6 planches hors-texte. Exemplaire bien complet de ses 12 planches dont celle de la Hottentote dite « au tablier » et des 2 planches de Girafe « Mâle » et « Femelle » qu'il décrivit pour la première fois et en importa un spécimen en France. Avec au tome 2 un vocabulaire d'histoire naturelle en français hollandais-hottentot. Second voyage : Bruxelles, Le Francq, 1797, 3 volumes XXXII-181pp-(2)-264pp.-2-327pp.-(1). Illustré de 22 planches dont plusieurs dépliantes. Reliure uniforme du premier et deuxième voyage reliés plein veau, dos lisse orné, pièces de titre et de tomaison en maroquin rouge, liserés d'or sue le plats, petite tâche d'humidité, très bel exemplaire. Fisrt and second travels of François Le Vaillant, 5 vols in-8° (21.5x135mm), illustrated with 34 plates, many folding. This scarce edition was printed in Brussels. Classic and very important narrative of South Africa, set beautifully bound in contemporary calf gilt back.
Verkäufer:
docteur_ramirez
[Toulon, FR]
Search for more books on viaLibri