Recently found by viaLibri....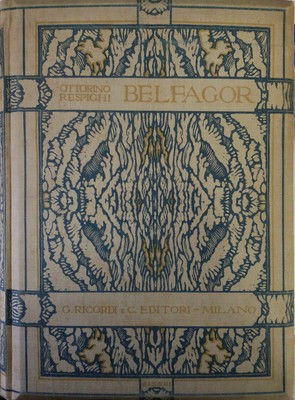 Belfagor. . Ottorino Respighi (per la musica di). 1923. .
1923. Condition: Accettabile. Belfagor Edizione di lusso di soli cento esemplari stampati su carta a mano appositamanet fabbricata e filigranata dalle cartiere Pietro Miliani di Fabriano. Legatura in tessuto decorato con lievi segni del tempo. Epilogo di Claudio Guastalla. Trattasi dell' Esemplare n° IV, condizione che accresce il pregio e la rarità del volume Numero Pagine 319 L'IMMAGINE MOSTRATA E' DELL'OGGETTO MESSO IN VENDITA THE IMAGE SHOWN IS THE OBJECT ON SALE L'IMAGE MONTREE EST L'OBJECT HIS EN VENTE Autore: Ottorino Respighi (per la musica di) Editore: G. Ricordi e C. Editori Collana: Lingua: ITALIANO Luogo edizione: MILANO Argomento: Spartiti per canto e Pianoforte Anno: 1923 Stato: USATO Volume: Rilegatura: rilegato Edizione: PER ACQUISTI MULTIPLI, SPEDIZIONE UNICA A 4,90 EURO. ATTENDERE ACCORPAMENTO ORDINI PER IL PAGAMENTO FOR MORE THAN ONE PURCHASE, ONE SHIPPING FOR 4,90 EURO. PLEASE WAIT FOR TOTAL ORDERS BEFORE PAYING POUR PLUS D'UN ACHAT, UNE SEULE EXPEDITION POUR 4,90 EURO. ATTENDEZ S'IL VOUS PLAIT LE TOTAL DES COMMANDES AVANT LE PAIEMENT RISPONDIAMO ALLE VOSTRE DOMANDE/CHIAMATE DAL LUNEDI AL VENERDI DALLE ORE 9:00 ALLE ORE 18:00 Tel. 0766.848763 FAX 0766.036914 E-mail: info@bibliotecadibabele.com Copyright Controcorrente Group S.r.l. - Loc. Colonia Elisabetta, Lotto n. 30 - 01016 Tarquinia (VT) Tel 0766.848763 - Fax 0766.03.69.14 - P.IVA 01832570566 Creato con il software gestionale Ready ProL'unica soluzione per gestire la tua azienda, il tuo e-commerce e il tuo store eBay.
Bookseller:
bibliotecadibabele.libri
[Tarquinia (VT), IT]
Search for more books on viaLibri