Recently found by viaLibri....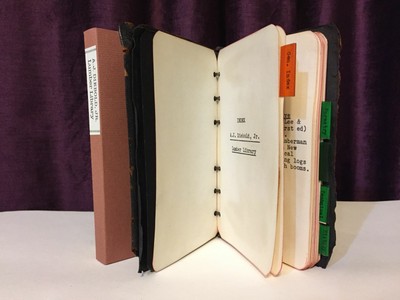 "Index: A.J. Diebold, Jr. Lumber Library"
Pittsburgh: 1952 (after). Small 8vo. Six-ring notebook, dark brown roan covers (worn) divided by 5 tabs. Title + 35 leaves (text typed on rectos only). Preserved in a 4-flap lig-free case. Highly curious vernacular library catalogue of a Pittsburgh logger, being his private collection of books on lumber and forestry, thoughtfully arranged. The contents were typed on 35 separate leaves and inserted into a six-ring notebook. This is clearly Diebold's home-made catalogue of his own lumber library; for instance Diebold describes Capt. Barker's 1903 "Lake Forest As I Have Known Them" as being "autographed by the author." Diebold continues: "Autobiography of a lumberman and guide in Northern New England. Good technical descriptions of working logs through the lakes with booms." There are 26 DETAILED descriptions of logging books dating from 1851 to 1952; following is an index (short titles) consisting of 9 leaves arranged into categories: Forestry, Anecdotes, Technical, and History. Alfred J. Diebold (1879-1966), a wealthy professional forester, resided in Pittsburgh. He was treasurer and co-owner of the Forest Lumber Co. and of the Hassinger Lumber Co., and a partial owner of Diebold Investment Co. He served on the boards of many professional organizations, such as the National Wholesale Lumber Dealers' Association. Vernacular library catalogues merit further research as they provide a more balanced view of what people were ACTUALLY READING. Catalogues of specialized working libraries, as here, are particularly interesting.
Bookseller:
Michael Laird Rare Books (nec-plus-ultra)
[Lockhart, Texas, US]
Search for more books on viaLibri