Recently found by viaLibri....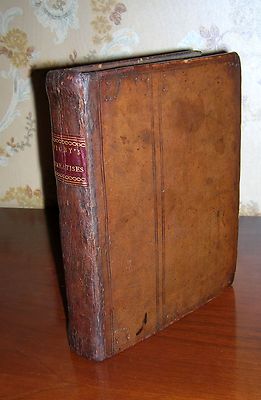 1658 DIGBY - TWO TREATISES
1658. DIGBY Kenelm Two treatises: In the one of which, the nature of bodies; In the other, the nature of mans soul; is looked into: in the way of discovery of the immortality of reasonable souls. London, Printed for John Williams, 1658 2 Parti in 1 volume (la seconda con proprio frontespizio) in 4° piccolo (cm.18,5 x 14) pp. (48) 429; 1 b. (10) 143 (1 b. - 3 privilegio in francese). Leg. inglese dell'epoca piena pelle. Filetti e fregi a secco impressi sui piatti. Dorso con titolo su tassello. Parte alta di una cerniera ottimamente accomodata. Porzione del margine alto di 3 carte asportata, senza mancanze. Ottimo esemplare. Terza edizione del più importante tra le opere filosofico - scientifiche di Digby. Pubblicati per la prima volta a Parigi nel 1644 questi "Due trattati" mostrano una combinazione tra l'Aristotelismo e l'Atomismo. Vengono trattati argomenti quali l'identificazione cartesiana di spazio e materia, la teoria della caduta dei gravi di Galileo, le esperienze con i magneti, la luce, la gravità, sul pensiero e la conoscenza. Kenelm Digby (1603 - 1665) scienziato eccentrico, filosofo, cortigiano, corsaro, fu celebre per i suoi scritti relativi alla cosiddetta polvere simpatica, che applicata su un pezzo di benda che fosse venuto a contatto con una ferita, avrebbe causato dolore alla persona malata, ovunque essa si trovasse.
Bookseller:
antiKbooks62 (mountous62)
[torino, TO, IT]
Search for more books on viaLibri