Recently found by viaLibri....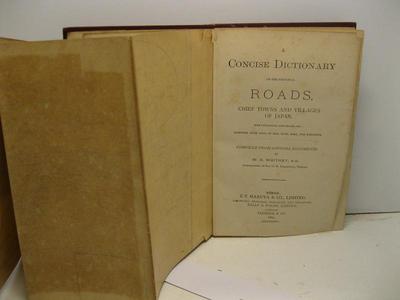 WHITNEY Willis Norton, A concise dictionary of the principal roads, chief
1889. Autore: WHITNEY Willis Norton Titolo: A concise dictionary of the principal roads, chief towns and villages of Japan with populations, post offices, etc. together with list of Ken, Kuni, Kori and railways compiled from official documents Luogo di stampa: Tokyo Editore: Z. P. Maruya & Co. Anno: 1889 Condizioni: leggere attentamente la descrizione nella scheda In 16, pp. V + (1) + 248 con una grande cartina f.t. piu' volte rip. e 1 tav. in fine. Mancanze al d. e al marg. inf. del p. ant. Macchie al p. ant. Legatura in p. tl. coeva. Testo su due colonne. Interessante dizionario delle principali strade, paesi, citta', distretti politici e geografici del Giappone. Nell'elenco compaiono anche i Kuni, ovvero le antiche province giapponesi, fino alla moderna suddivisione delle prefetture in Ken o Kori. Elencate anche le principali stazioni ferroviarie. In fine compaiono tavole sinottiche con l'indicazione dei pesi e delle misure giapponesi e un sillabario con indicazioni ortografiche. Nel dizionario ogni luogo e' indicato con caratteri giapponesi preceduto dalla translitterazione. L'A., Willis Norton Whitney, americano, si trasferi' nel 1879 in Giappone a seguito del trasferimento del padre. Ritorno' in America nel 1881 per studiare medicina alla Pennsylvania Medical School. Ritorno' quindi in Giappone per lavorare come interprete all'ambasciata americana. Nel 1886 fondo' l'ospedale di Akasaka. Rogala, 'A collector's guide to book on Japan in English...', 1315, p. 263.
Bookseller:
Libreria Antiquaria Coenobium (comalek)
[Asti, Italy, IT]
Search for more books on viaLibri