Recently found by viaLibri....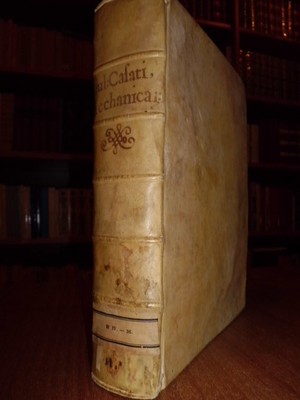 Mechanicorum Libri Octo - Pauli Casati Placentini. Prima edizione 1684
1617. Arrossature della carta, ma bell' esemplare. Mechanicorum Libri Octo. In quibus uno eodemque principio vectis vires Physice explicantur et Geometricè demonstrantur atque machinarum omnis generis componendarum methodus proponitur. Casati, Paolo (1617-1707). Lugduni, apud Anissonios, Joan Posuel et Claudium Rigaud, 1684. In-4°, pergamena coeva con titolo sul dorso. (16), 799 pp., 1 f. bianco. con numerose figure e schemi in xilografia n.t. Carte con le usuali lievi arrossature, ma esemplare ben conservato. Edizione originale. Riccardi, I, 272. Roberts-Trent, Bibliotheca mechanica, p. 65: Casati's work is divided into eight books, the first devoted to the center of gravity. The second book discusses the causes of machine movement; the third, weight (including equilibrium); and the fourth, vector motion. Book five concern winches, book six combination pulleys, book seven wedges and percussion, and book eight discusses scerws. Barlow list Casati among the most distinguished authors on mehanics.
Antiquar:
Libri rari e antichi (libreriabrighenti)
[San Giorgio di piano, BO, IT]
Search for more books on viaLibri