Recently found by viaLibri....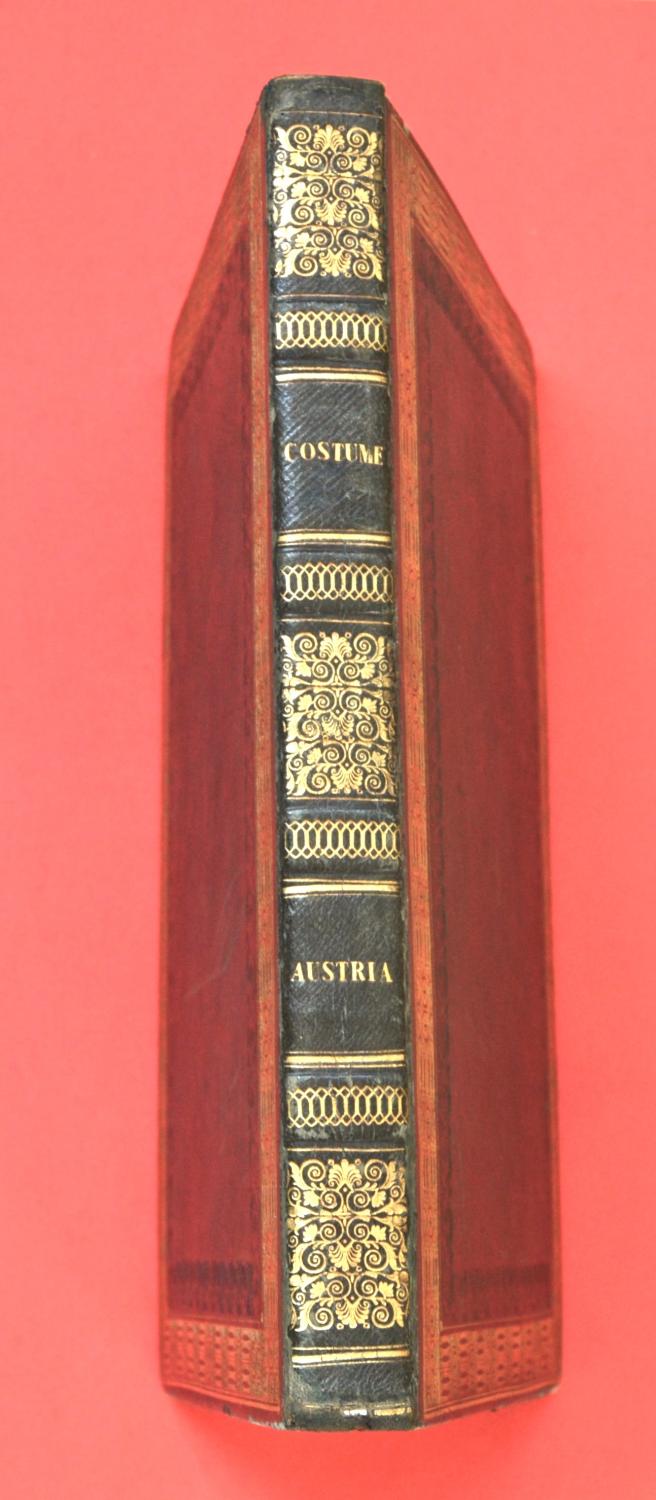 The costume of the hereditary states of the House of Austria, displayed in fifty coloured engravings; with descriptions, and an introduction, by M. Bertrand de Moleville. Translated by R.C. Dallas, esq.
London: Printed for William Miller, by William Bulmer and Co. Cleveland-Row. [Para pedidos desde fuera de España, por favor, consulte las condiciones de venta y envío, tipo A. / For orders to be delivered outside Spain, please, let you see our sale and shipping terms, type A. / Pour les commandes à livrer hors d'Espagne, s'il vous plait, voyez les conditions de vente et de livraison, type A].- // Folio mayor, (360x260mm.); [6], xxviii, [50 h. + 100 p.]; portada adicional en francés ?Costumes des etats héréditaires de la Maison d Autriche. Consistant en Cinquante Grabures Coloriées; dont les descriptions, ainsi que l introduction, on été redigées par M. Bertrand de Moleville.- Londres: imprimé pour William Miller; par William Bulmer et Comp. Cleveland-Row, 1804?.- Las 50 hojas son 50 grabados coloreados a mano, seguidos cada uno de una hoja con su explicación en inglés (en el recto) y francés (en el verso).- Láminas 1-20, 22-28, 30-33, 38, 40 y 43-49 grabadas por Wm. Ellis; láminas 34-37, 39 41-42 y 50 grabadas por Wm. Poole; láminas 21 y 29, sin firma.- // Encuadernación romántica en plena piel verde; lomo con nervios dobles cuajado de filetes, cenefas y paneles grabados en dorado como el tejuelo; planos con orla de filetes y cenefa neogçotica en dorados y orla de cenefa gofrada en su interior; contracantos dorados a rueda; cortes dorados. Puntas y charnelas rozadas; primer cuaderno desprendido. Bien completo del índice de los grabados y de la última hoja blanca.- // Proc.: Exlibris encolado en contraplano delantero, 'Francis Gray Smart', lema 'Esse quam videri'. [Attribute … [Click Below for Full Description]
Bookseller:
Andarto B.
[Pamplona, NA, Spain]
Search for more books on viaLibri