Recently found by viaLibri....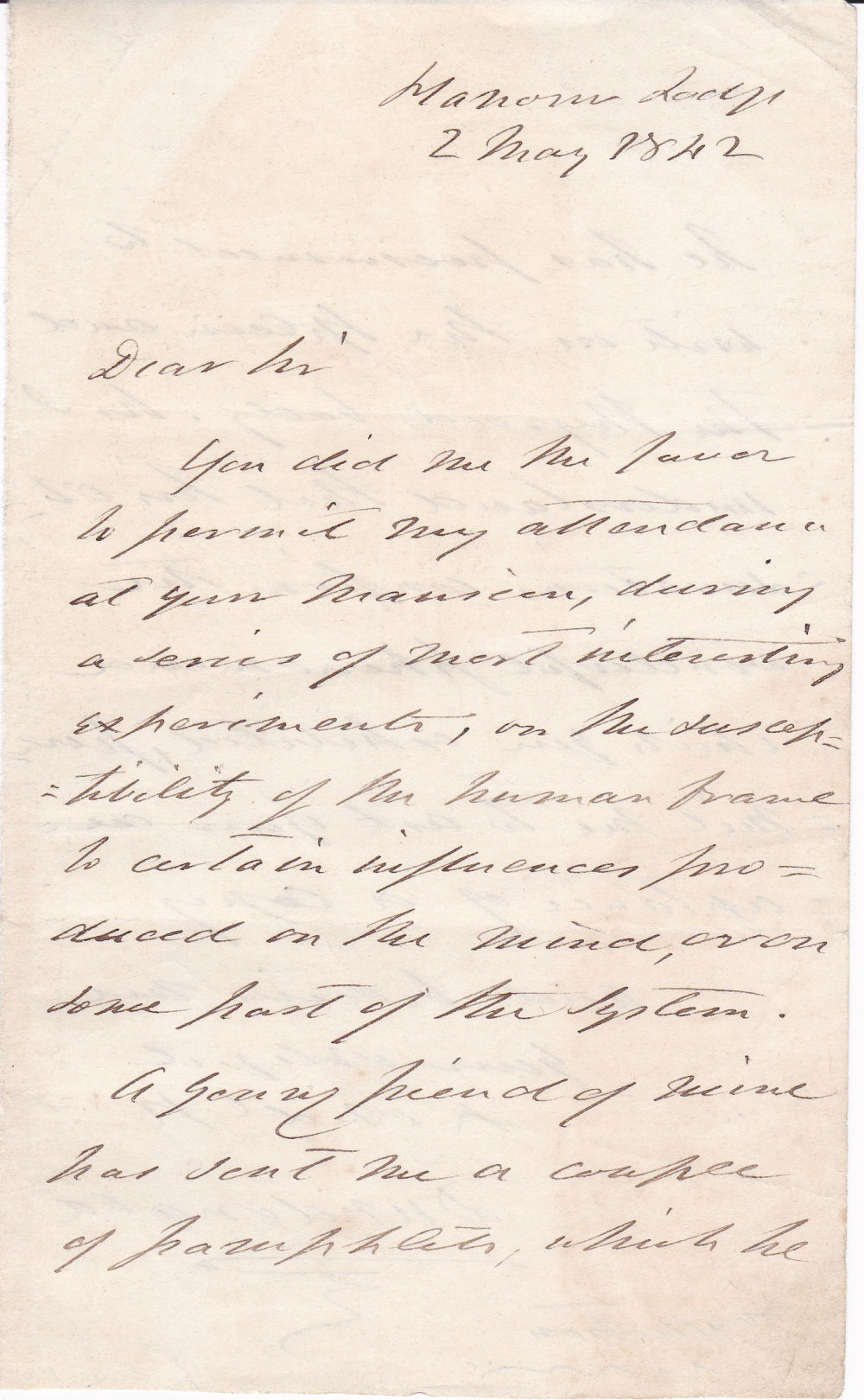 AUTOGRAPH LETTER concerning a demostration of Hypnotism SIGNED "DUNDONALD" by THOMAS COCHRANE, 10TH EARL OF DUNDONALD, addressed to DR. JOHN ELLIOTSON, who is recognized for his role in promoting Mesmerism and Phrenology and for the introduction of the stethoscope to the UK. TOGETHER with a RARE 1809 PORTRAIT OF LORD COCHRANE.
Hanover Lodge, May 2, 1842. 1842. Paperback. Hanover Lodge, May 2, 1842. 1842. Very good. - Approximately 100 words penned on both sides of a 7-1/2 inch high by 4-1/2 inch wide sheet of creamy white paper. In his letter penned from his home, Hanover Lodge in London, Lord Cochrane writes Dr. John Elliotson to thank him for permitting his "attendance at your mansion, during a series of most interesting experiments, on the susceptibility of the human frame to certain influences produced on the mind..". Lord Cochrane is likely referring to experiments in mesmerism which Dr. Elliotson conducted at his home. He goes on to mention that "a young friend" has sent him "a couple of pamphlets, which he has presumed to write on the spleen and the thyroid body." He asks Elliotson to accept a copy "As I understand that his observations confirm the wonderful phenomena which you exhibited.." Signed "Dundonald". Folded for mailing with minor creasing. The letter may have once been tipped into an album as there is a short thin sliver of paper adhering to the lower inner edge of the verso. Very good. Together with a rich oval engraved portrait of "Lord Cochrane" on 9-1/4 inch high by 5-3/4 inch wide heavy stock by "R. Cooper" [quite probably Richard Cooper, the younger]. "Given extra in the Supplement to the 1st Vol. of Ackermann's Repository of Arts" is printed along the bottom of the sheet. This portrait of young Lord Cochrane was published in June 1809 The British naval flag officer Admiral Thomas Cochrane, 10th Earl of Dundonald, Marquess of Maranhao (1775-1860) was successful in nearly al … [Click Below for Full Description]
Bookseller:
Blue Mountain Books & Manuscripts, Ltd.
[Cadyville, NY, U.S.A.]
Search for more books on viaLibri