Recently found by viaLibri....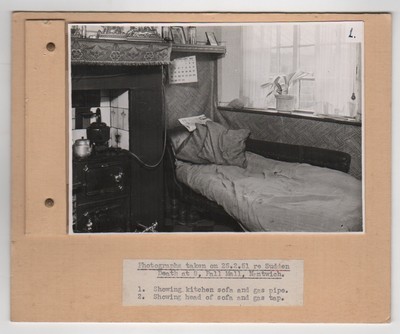 [Crime Scene & Accidental Death Photo Archive]
Cheshire, England: 1948-1954. 25 thick cards, each 8" by 6.5", with brass fasteners holding on a layer of gelatin-silver prints, between two to thirteen to each card. Prints have a small identifying number glued to the right edge, as reference for small sheet of typewritten captions glued to the card. Overall, condition about very good. Several cards have noticeably lost their captions, but all photos appear intact. A bit toned, and lightly soiled, but considerably well-preserved indeed. Housed in a custom gray archival box. Very good. Collection of photographs of death scenes in and around the English county of Cheshire, used for investigative purposes. The majority depict traffic accidents, of which two involved bicycles colliding with cars. Other incidents include a drowning, a man's sudden death while riding a tractor, another dying near an open gas pipe, a second gas-related incident in a home garage, plus three factory/worksite accidents and two falls down flights of stairs. One card shows the name William Gordon written in ink, referring either to the photographer or the deceased person. The stark and limited nature of the captions precludes a full understanding of the events, as they were used as an evidence tool above all else. Nevertheless, an indelible and haunting series of images, as well as a useful record of forensic photography.
Bookseller:
write-field
[Silver Spring, Maryland, US]